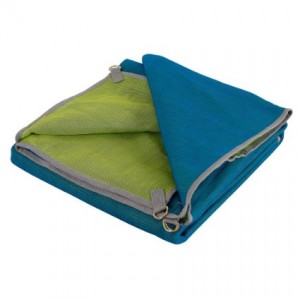 One of the coolest inventions that I have come across in recent years is the sandless beach mat because these enable you to sit (or lie) on the beach without sand getting everywhere.
Everyone enjoys relaxing on the beach, but it can be quite frustrating when you have sand particles sticking to your body after applying sun cream. It is also annoying when you have to deal with grains of sand getting in your food and all of your personal belongings.
A sandless beach mat, however, will solve this common problem. Let me explain how:
How A Sandless Beach Mat Actually Works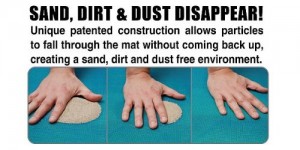 The real genius behind one of these special beach mats, which were originally developed for military use, is that they actually consist of two separate dual-weave layers.
The top layer (and indeed the bottom layer) allows sand particles, dust and dirt to pass through to the other side, whilst the bottom layer helps prevent sand coming up from underneath.
So any sand that happens to accumulate on the mat will quickly disappear through to the other side in an instant, creating a sand-free environment in which to relax, and if there does happen to be any large lumps of sand, you can simply rub the sand into the mat with your hand and watch it disappear.
Video Demonstration
You can see exactly how this product works by watching the following demonstration video:
CGear Quicksand Sand-Free Beach Mats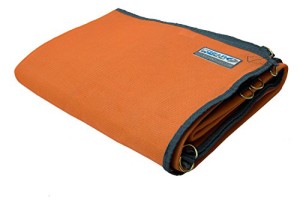 The company that developed this patented dual-layer mesh technology is CGear, and subsequently they are still the number one producer of sand-free beach mats, rugs and blankets.
They currently offer a choice of three different Quicksand mats for you to choose from, ie blue, green or orange (like the one featured in the video above), and these are available in three different sizes – small (6 feet x 6 feet), medium (8 feet x 8 feet) and large (10 feet x 10 feet).
UPDATE: You can also buy an extra large mat in some colors that measures 12 feet x 12 feet, which would be ideal for couples and families.
In addition, you will find that these mats have some form of UV stabilizer built-in in order to prevent them from fading in the sun, and have protection around the edge of the mat to prevent them getting ripped. So they should last a very long time.
They are very easy to lay out at the beach (as long as you place them the right way up), but it is also worth noting that they can also be attached firmly to the ground using the heavy D-rings, which makes them ideal for general outdoor use.
If you would like to buy one of these mats, the blue, green and orange mats are all available to buy from this page at Amazon.com, where you will also find lots of customer reviews if you would like to read what other people have to say about these mats.
CGear Sand-Free Multi Rugs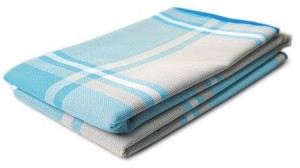 You might also want to consider buying one of the sand-free multi rugs that are available from CGear because these use the same dual-layer technology to eliminate dust, dirt and sand, but offer a little more comfort and are available in different sizes to the beach mat.
The smallest rug, for example, is 3'4 x 6'6 (in feet), whilst the medium sized rug is 5'1 x 6'6 and the largest rug is 6'6 x 6'6, which can easily accommodate up to 4 people.
These sand-free rugs cannot be attached to the ground, so they are more like a traditional beach towel or blanket, but they are still very useful nonetheless.
Once again, these products are on sale at Amazon (here is the product page) and you will see that you have a choice of two different colors to choose from (blue plaid, like the one pictured above, or brown).
One Final Word
I just want to end by saying that these products are more than just a beach mat / blanket. They can also be used when you go on a picnic, for example, in order to help eliminate any dust or dirt that might accumulate around you, and they can also be used when you go camping as well.
So hopefully you can see why these sandless beach mats and rugs are such a good invention, and why they have received so many positive reviews since they first went on sale.