On this site we have reviewed some of the top sand-free beach mats that you can buy, all of which are pretty big because even the smallest one measures 72 x 72 inches.
However if you don't want to spend this much money on a beach mat, but still want something that is big enough to lie on, for example, you might prefer to buy a large oversized beach towel instead because there are lots to choose from.
Oversized beach towels are generally at least 70 inches long and the large beach towels for two are often equally as wide to accommodate more than one person. They are obviously not as good at repelling sand, but they are still more than adequate for most people's needs.
So here are some of the best oversized beach towels that are available to buy in 2017:
Monster Towel 3.0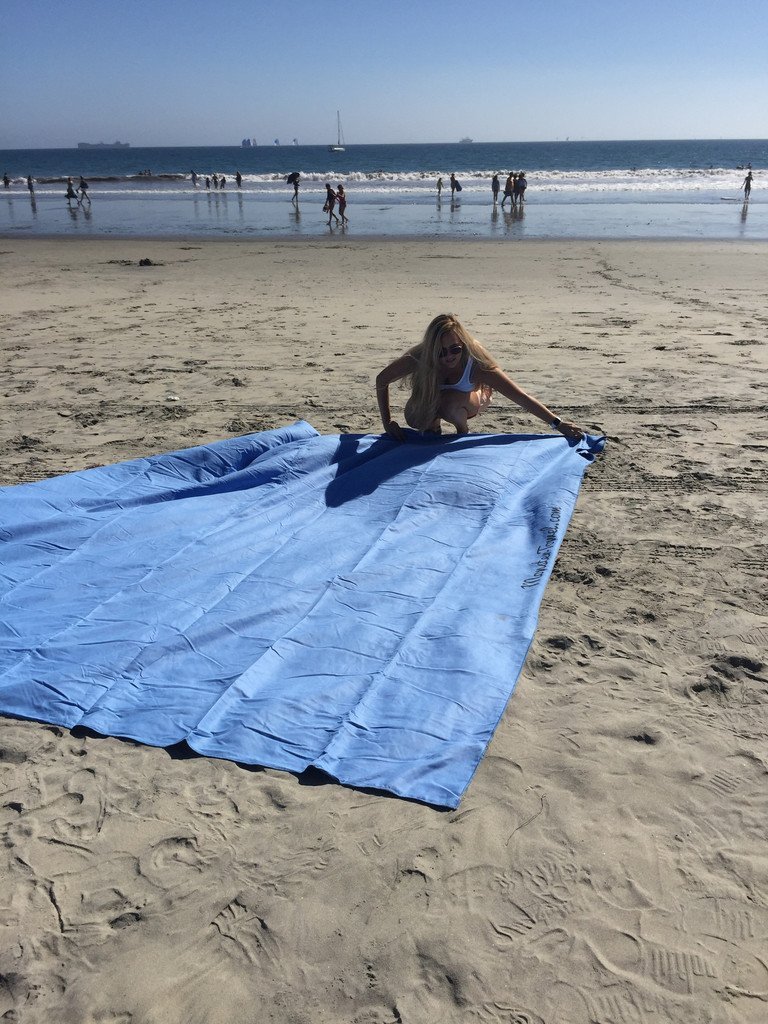 The Monster Towel is said to be the largest beach towel in the world, so it is therefore ideal if you want to lounge around on the beach with friends or family, or if you just want a bit more space.
It is actually 10 feet x 10 feet in size, which means that it is substantially larger than most other beach towels. Indeed it is significantly larger than all of the other extra large towels featured on this page.
However it should be pointed out that whilst this is a really big towel, it is not at all cumbersome to carry around because it rolls up small and compact and is made from super-thin microfiber material that is very quick to dry. Plus the latest version now includes a carrying strap as well.
So when you consider that this 3.0 towel is also soft and comfortable to lie on and now includes sand pockets in the corners to weigh it down and keep it in place, as well as a hidden corner pocket for your valuables, there are many reasons why you should consider paying a little more for this supersized beach mat.
→ Click here to buy the Monster Towel
→ Click here to read a full review
Large Beach Towel And Pool Towel In Cabana Stripe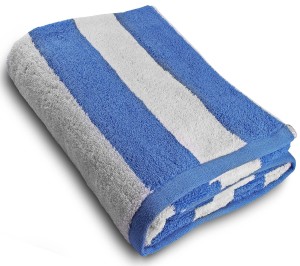 This premium quality beach towel from Utopia Towels is 35 x 70 inches in size, and is suitable for use at the beach or the swimming pool, for example. That's because it is made from 100% cotton and is the ideal thickness to absorb water.
Furthermore it is also really soft, whilst still being durable enough to withstand multiple washes in the washing machine.
This oversized beach towel has a stylish blue and white stripe design and will look great at the beach or the pool. However it is also available in other colors as well, and if you are unhappy with it for whatever reason, it comes with a 30-day money back guarantee.
→ Click here to buy the Large Blue and White Cabana Stripe Towel
Also available:
→ Cabana Stripe Towel (4 Pack) – if you want to buy more than one towel, you can save yourself quite a lot of money by buying this 4-pack.
Microfiber Beach And Travel Towel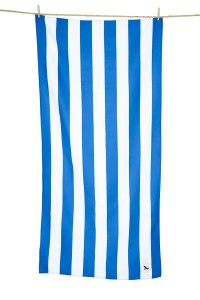 Another top quality beach towel that you might want to consider buying this summer is the Microfiber Beach and Travel Towel from Dock & Bay, which was featured on Dragons' Den in the UK earlier this year.
This is said to be one of the largest beach towels on Amazon (not including the Monster Towel) because the extra large one is 78 x 35 inches in size. However you can also buy the large one if you don't need one this big, which measures 63 x 31 inches.
This towel is absorbent and quick-drying, and is also very light to carry because it is made from a soft microfiber material instead of cotton. It even comes with its own pouch so that it is easy to carry to the beach.
Plus as well as being very practical, it also has an attractive striped design. Indeed it is actually available in a choice of six vibrant colors (blue, yellow, green, orange, pink and red), and there is also a summer rainbow towel that features a combination of different colors.
UPDATE: you can now buy extra large round towels that have a 75-inch diameter in all of these colors as well.
→ Click here to buy the Microfiber Beach and Travel Towel
Plush Cabana Beach Towel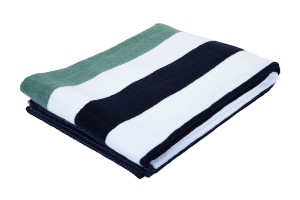 If you prepared to pay a little extra for a premium quality beach towel, then you should definitely consider this Plush Cabana Beach Towel from the Laguna Beach Towel Company.
This is another big beach towel that measures 70 x 35 inches, but what separates this one from many other beach towels is that this one has a higher cotton content (600 grams per square meter compared to 400 grams for most others).
Subsequently it is thicker and softer than your typical beach towel, and it will also absorb more water and last a lot longer as well.
This towel is available in a choice of three different color schemes. The midnight blue and seafoam (pictured above) is my personal favorite, but it is also available in red, white and blue or ocean blue and almond, which both look pretty good as well.