Standard Beach Towel Size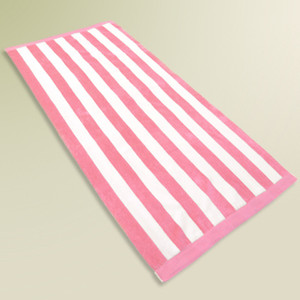 If you ever find yourself shopping for a new beach towel, you may well find that they can differ in size ever so slightly.
However it is fair to say that the standard beach towel size is about 60 inches x 30 inches on average, which is noticeably bigger than your average bath towel, for example.
That's because these towels are obviously designed to be big enough for you to lie on comfortably when you're at the beach.
Large Beach Towel Size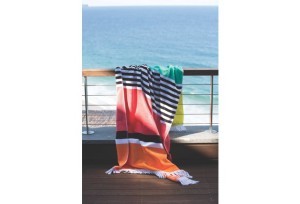 If you find that a standard beach towel is still not quite big enough, you can also buy extra large beach towels, such as these ones, for example, or the Avalon Luxe Beach Towel (pictured right), which are typically around 70 inches x 35 inches in size.
These are ideal for couples and small families, and it is worth mentioning that you can actually buy beach towels that are slightly bigger than this if you really want to spread all of your things out and relax.
For example, we recently reviewed a blue and white striped microfiber towel that is available in an extra large size of 78 x 35 inches, which should be more than big enough for two people to use without feeling cramped.
Monster Towel Size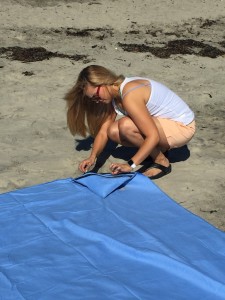 It is also worth mentioning the dimensions of the popular Monster Towel because this supersized beach towel is 120 inches x 120 inches (10 feet x 10 feet), and is said to be the largest beach towel in the world.
This one will obviously take up a lot of space on the beach, but it will provide you and your family with lots of space to relax, and you will have lots of room to spread out all of your belongings.
Can You Use A Bath Towel Instead?
If you don't like the idea of buying a new beach towel, you can of course use a bath towel instead because many people will have lots of these towels at home.
However you should bear in mind that these towels are not really suitable for the beach and do have their limitations.
That's because they are generally smaller than a standard beach towel for a start, but they also tend to be a lot thicker than a beach towel, which means that they could feel uncomfortably hot to lie on in hot sunny weather, and could feel quite heavy when they get wet.
So if possible, you should definitely consider buying a beach towel instead because these are thinner and larger in size, and will dry off a lot quicker than a bath towel.
Plus they are also available in lots of cool designs, unlike boring bath towels, which are generally simple one-color designs that are designed to match the decor of people's bathrooms.