New Beach Towel Measures 10 Feet x 10 Feet And Claims To Be The Largest Beach Towel In The World…
This website is dedicated to reviewing some of the top sand-free beach mats and beach blankets, but I have just come across a new product that I just had to feature on this site.
It's called the Monster Towel, and as the name suggests, this is a really large beach towel that is big enough for the whole family to use.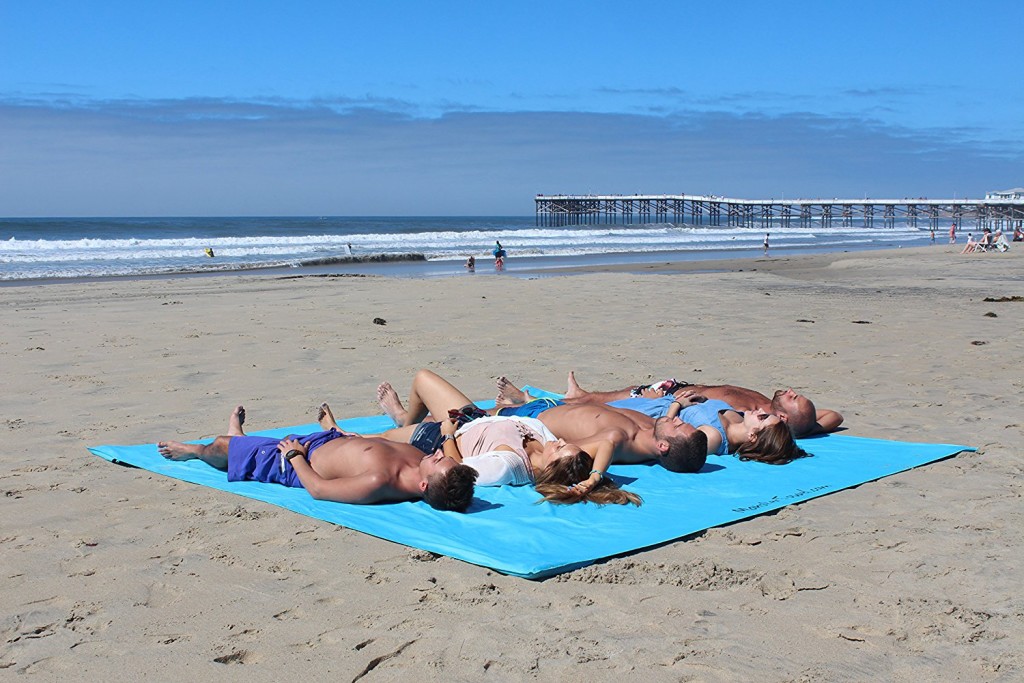 Here are some of the main features and benefits of this exciting new product:
measures 10 feet x 10 feet
made from super-thin absorbent material
soft and comfortable to lie on
rolls up small and compact
takes up less room than a normal towel
available in six different colors
ideal for the whole family to use
includes sand corner pockets
includes hidden pocket for your valuables
suitable for the beach, camping and hiking
Is It Really The World's Biggest Beach Towel?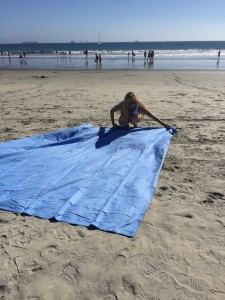 If you have checked out the sandless beach mats, rugs and blankets that we have reviewed on this site, you will know that some of the extra large ones are available in sizes up to 10 feet x 10 feet. However this is the first time that I have come across a basic beach towel that is anywhere near as big as this.
Some of the oversized beach towels are around 70 x 35 inches in size, and there is of course the WowTowel. However even this one only measures 86 inches x 86 inches, which is approximately 7.17 feet x 7.17 feet.
So if you are looking for an oversized beach towel that the whole family can lie on the next time you are on the beach, this Monster Towel is absolutely ideal because at 10 feet x 10 feet, it is easily the biggest beach towel that I have come across so far.
Indeed you can see from the picture above that this towel is easily large enough for five adults to lie on.
Ultra Soft Material
One of the main benefits of this particular beach towel (apart from its size) is that it is made from ultra-soft absorbent material. Therefore it is extremely comfortable to lie on (and sit on) when you and your family are relaxing on the beach or having a picnic in the countryside, for example.
Thin And Lightweight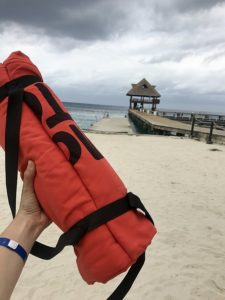 Another positive feature of this Monster Towel is that it is thin and very light to carry around. Indeed you will find that the latest Monster Towel 3.0 now comes with its own carry strap.
Therefore it is very easy to carry to the beach or to take with you on days out, and you could easily take it abroad with you because it is really small and compact when rolled up. Indeed it actually takes up less space than a normal beach towel, according to the makers of this product, and weighs less than an average purse.
Choice Of Colors
This particular towel is available in a choice of two different colors – aqua (pictured below left) and lime green (pictured below right) – however I understand that more colors will be available soon.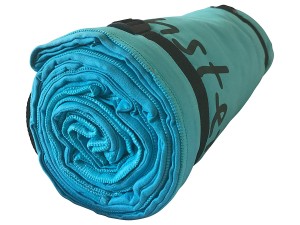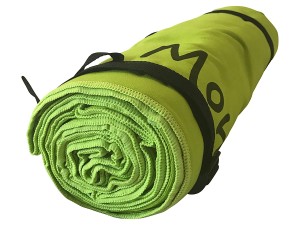 2017 update – the new Monster Towel for 2017 is now available in lightning blue, sunrise pink, sunset purple and coral red as well.
Custom Embroidery Option
If you would like to have your name printed on this towel, for example, or would like to have some other text printed on it (up to a maximum of 10 characters), you can choose to have your towel embroidered when you place your order.
This service costs an additional $10, and adds 1-2 weeks to the delivery time, but it's still a nice feature that you might want to consider if you do decide to buy one of these products.
2017 update – unfortunately this option doesn't appear to be available with the new 3.0 towel.
Large Corner Pockets
It is all too easy for normal beach towels to move around quite a lot, but one of the main benefits of the new Monster Towel is that it now includes large corner pockets that you can fill with sand to weigh it down and keep it firmly in place.
It also includes a hidden pocket that you can store your valuables in whenever you fancy going for a dip in the sea, for example, which is another really cool feature.
Negatives
The only negative aspect of these oversized beach towels is that they won't repel sand like the sand-free beach mats. However to be fair, they are not designed to do this, and they would of course be thicker, heavier and a lot more expensive if they did.
The key selling point of this product is that it is currently the biggest beach towel on the market, and in addition to this, it is also extremely practical because it is thin, lightweight and absorbent, and is very comfortable to lie on thanks to its ultra-soft microfiber material.
Video Demonstration
Where To Buy The Monster Towel
This is a relatively new product that has only recently gone on sale, so I don't think you will find it in any shops. However it is available from the official Monster Towel website, and is also listed on Amazon.com as well, where you can view all of the different colors that are currently available: