If you enjoy lying around on the beach and topping up your tan, or going camping in the countryside, you may well benefit from using a sand free beach mat because these mats will quickly remove any sand, dust and mud from your surroundings by enabling these small particles to pass through to the other side.
I have already touched upon some of the benefits on the home page of this website, but it's worth reiterating them once again because even if you only use it on the beach, just being able to sunbathe on the beach without sand getting in your food and all of your gadgets is a major benefit.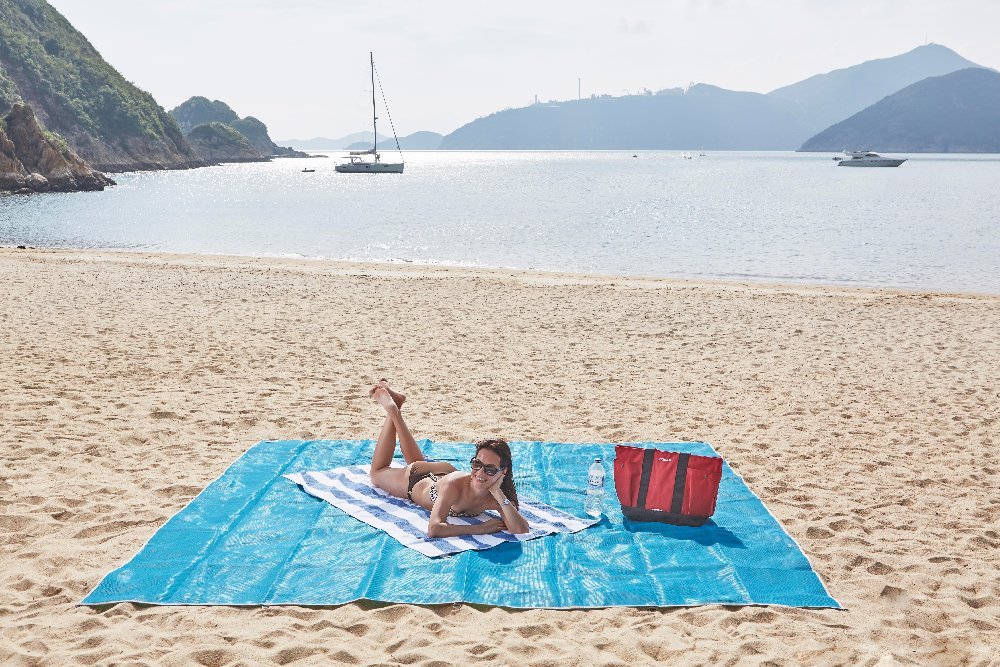 Similarly if you are someone who likes to eat al fresco and take a picnic or two in the country, then sitting on one of these mats will prevent dust and dirt getting in your food.
Another advantage of these sandless beach mats is that because they are available in different sizes, you can choose one that most satisfies your own personal needs.
For example, you can buy a small one that is easily big enough to accommodate two people, or you could invest in a larger 10 ft x 10 ft mat that could accommodate an entire family of two adults and two children, for instance.
So these are some of the main benefits, but it is worth pointing out some of the negatives as well so that you can weigh up whether or not you want to buy one of these products.
The one thing that will put a lot of people is of course the price. Whilst you can go into any beach front shop and buy a straw beach mat for no more than around $10 – $20, these ones are a lot more expensive because they use two layers of material, are a lot stronger, and are of course a lot better designed.
Subsequently you can expect to pay between $50 and $100 on average for one of these specially designed beach mats.
Another slight issue that a few people have complained about is the weight of these mats. Whilst a straw mat will weigh next to nothing, these sand free mats are significantly heavier.
Therefore this may be a factor if you are required to walk to the beach or walk to a suitable picnic spot in the country, for example, or if you are planning to include one of these mats in your luggage when travelling abroad.
Overall, though, I think the convenience and the added comfort of these sand free mats definitely outweigh the negatives, and more than justifies the slightly higher price of these innovative products.